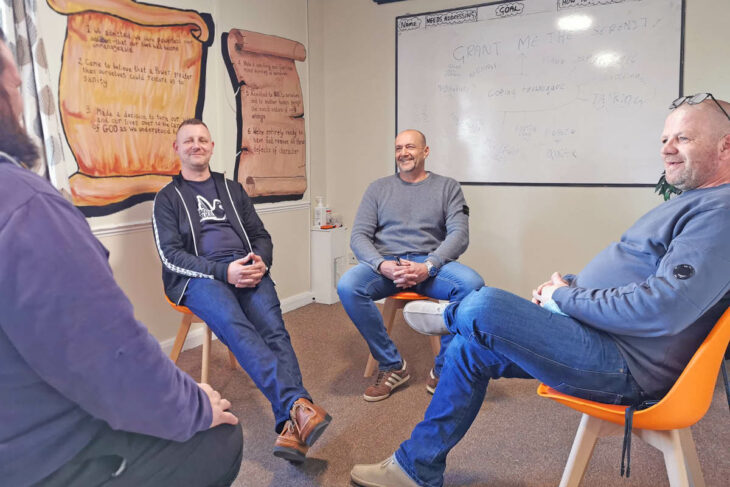 Our treatment programme has three key stages, using evidence-based interventions that are to be proven effective in treating addictions and promoting attitude and behaviour change. They include:
The 12 Step model of recovery developed by Alcoholics Anonymous and Narcotics Anonymous
Elements of Motivational Enhancement Therapy (MET) and the Seeking Safety approach
A Therapeutic Communities approach, supporting staff and clients to play an active role in running the treatment community. We encourage collective openness and sharing in order to maintain a supportive, therapeutic environment in which you can achieve your goals
The stages of treatment
Stage 1

The first stage focuses on addressing substance use and offending behaviour and is built around steps 1 to 5 of the 12 Step programme.

You are encouraged to reflect on your addiction and offending behaviour and to recognise the need for recovery support. You're also supported to examine your attitudes and behaviours, identifying those that have been unhelpful in life as well as those which can be used as resources to support your recovery.

In this stage of treatment you are offered a combination of:

One-to-one counselling sessions
Individual assignment work
Group therapy sessions
Educational workshops
12 Step educational groups
Goals groups
A weekly community meeting

Life skills and wellbeing

In addition, we support you to develop skills around cooking, shopping, budgeting and preparing to move into one of our self-contained flats. You can also access holistic therapies such as reiki.

To support your recovery, we'll introduce you to mutual-aid support, including 12 Step meetings in the local community. You can also take part in weekly activities such as bowling, cinema, ice skating, go karting, creative writing, cooking lessons and much more. We also have our own camping and fishing equipment.
Stage 2

In the second stage, you develop the tools needed for sustaining recovery through working steps 6 to 12 of the 12 Steps.

We support you to form supportive relationships, both inside the treatment community and with family and significant others,  and explore and carry out meaningful recovery focused activities. During this stage, you'll be expected to provide peer support and role-modelling to newer members of the community.

Alongside therapeutic work, you'll also create recovery plans and begin to address housing, educational, employment and training needs in preparation for moving back into the community.

Housing support is a significant component of this stage. We'll help you to find safe, suitable accommodation to move to after completing treatment. We expect you to fully engage in this process and be proactive in finding accommodation – but if you experience barriers beyond your control, a  'grace' period of up to four weeks after your end date may be agreed, in order for accommodation to be finalised.
Stage 3

Having successfully completed the first and second stages, you are able to stay in one of our Recovery Houses for up to 12 months. You receive ongoing support from our Resettlement Team to ensure full integration into the recovery community. You can also get involved in  volunteering, peer mentoring, education and employment opportunities.

Recovery Houses are based on abstinence, so you will receive random drug and alcohol tests.You are also expected to attend The Bridges at least once a week, in a peer mentor role, supporting clients in groups, sharing your experience and journey. A full peer mentorship programme is also available.
Ongoing support

Once you have finished treatment, you'll work with your recovery worker to devise an individual recovery plan to ensure safe and smooth transition into the community. This may include:

Continued attendance at group sessions
One-to-one sessions
Relapse prevention and recovery planning
Continued resettlement and tenancy support

The aftercare service is available to all clients who complete treatment.

Forward at The Bridges is part of a thriving recovery community in Hull. Aside from mutual-aid groups, there are various city-wide service user groups, forums, recovery cafés and events, including Forward's recovery community, Forward Connect.

If you live in the London area, we'll connect you to recovery support housing providers such as Kairos, as well as Forward's Recovery Support Team. We'll also invite you to our annual recovery events in London and Hull.